Rail Tours Sri Lanka
Trains in Sri Lanka are a very adventurous travelling option and also the best way to explore the natural beauty of the country. By opting for a rail tour in Sri Lanka you can plan your holiday by means of a very affordable mode of transport for exploring the country. Luxury and moderate class government owned and private rail services are available to popular holiday destinations in Sri Lanka.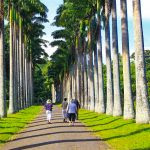 Day 1 Colombo to Kandy (By Car)
On the way to Kandy, you can visit the Pinnawela Elephant Orphanage in the morning hours and watch how the elephants bathe and eat their food. It is an interesting sight indeed, particularly for those who are fond of animals.
Next, you can visit the Royal Botanical Gardens, which is just a few kms from Kandy. Here you will find a wide range of flora including orchids, spices, medicinal plants, palms and much more. This is an enjoyable picnic spot for many locals and foreigners alike.
A Kandy city tour is a must, including a visit to the Kandy Lake and other important sites in Kandy. In the evening, you can enjoy a cultural show with traditional Kandyan dancers to entertain you.
We will then take you to Earl's Regency for your overnight stay in Kandy.
Day 2 Kandy to Nanu Oya (By Train)
Before you depart to the central highlands, you will be taken to the Temple of the sacred Tooth Relic to obtain blessings from the Buddhist priests. You will then proceed to the Kandy railway station for your first train ride in this rail tour Sri Lanka. Your destination from Kandy by train will be to Nanu Oya. This is a ride during which you must do nothing but sit back, relax, and enjoy the most breathtaking scenery ever! From Nanu Oya, a car will drive you to Heritance Tea Factory hotel in Nuwara Eliya. On the way, you will pass Nuwara Eliya town, where you can enjoy an evening boat ride on Gregory Lake.
Day 3 Nanu Oya to Ella (By Train)
In Nuwara Eliya, we have scheduled a tea factory visit where you can learn about the manufacturing process of tea and partake in an exciting tea plucking experience the traditional way. After a tour of Nuwara Eliya town, you will be driven to the Nanu Oya train station for your next train ride to Ella. This is another journey during which indulging in the beauty outside is a must. In Ella, you will stay at a luxury hotel known as the 98 Acres Resort and Spa.
In Ella, it is advisable to begin your day at the crack of dawn if you want to hike to Little Adam's Peak and get the best view at the Ella Gap. The Nine Arch Bridge is another attraction that you can visit in Ella before you return to your luxury hotel for another night.
Day 5 Ella to Arugambay (By Car)
From Ella, you will be driven to the southern city of  and on your way you can spend some time at the beautiful Ravana Waterfall.
Day 6 & 7 & 8 Arugambay to Mirissa (By Car)  
Welcome to an Arugam Bay surf camp experience!  joining this surf camp, you will get surf lessons, massage, Lagoon Safari, Kumana National Park and all surf equipment required to make your surf camp enjoyable. Also, you will have a chance to taste the best smoothie bowls in town. Come over and enjoy the good vibes and the fun spirit of the surf team! our accommodation in Star Rest Surf Camp Arugambay..
9th morning  Moving further towards the southern coast, Mirissa is a popular beach destination in Sri Lanka. Here you can spend plenty of time enjoying the exotic beach. Sri Sharavi Beach Villas is where you will spend a night in Mirissa. A visit to the Weligama fish market is optional in this Sri Lanka rail tour itinerary.
Day 9 Mirissa to Bentota (By Train)
 Early next morning, enjoy an adventurous whale watching experience in Mirissa and then head towards the train station at Matara for your next train ride to Bentota. On this ride, you will see completely different scenery to what you saw in the hill country.
Once in Bentota, visit the Turtle Hatchery and relax on a boat ride in the Madu river. Your overnight stay in Bentota will be at Villa Bentota.
Day 10 Bentota to Colombo (By Train)
At the Bentota train station, you can get into any train going towards Colombo and get off at the Colombo Fort. Walk around the fort area and the Pettah trading market and shop for anything that you like. Then explore the Gangarama Temple to learn about Buddhist culture in Sri Lanka. You can also visit the Manning Market in Colombo for some tropical fresh fruits and vegetables.
During your Colombo city tour, don't forget to visit the Galle Face Green, Old Parliament Building (Dutch colonial architecture), independence square and BMICH (an admirable conference hall). Hotel Tintagel is where you will spend your last night in Sri Lanka, end your journey the next day and drive towards the airport at a suitable time, depending on the time of your flight.
PRICE ON REQUEST
WhatsApp+ 94 752292629